IWG Corporate Services is a versatile multi-family office, based in the Okanagan region and provide services to businesses throughout Western Canada and beyond.
What Keeps You Awake at Night?
As a business owner, what keeps you awake at night?
Balancing the Books
Human Resources Issues
Finding Reliable Employees
Paying the Bills
Lack of Capital
Partnership / Investor Issues
New Competitors
Technology Issues
Training Employees
Attracting Customers
Keeping existing Customers
Marketing Challenges
Legal Challenges
Marketing or Branding Issues
Taking a Vacation (for Yourself)
Doing too much on Your Own
Operating your own business enterprise is very rewarding, but can also be an overwhelming challenge.
---
Whether you are experiencing unprecedented growth and success, or facing difficult challenges, there are times when an extra guiding hand or second opinion from an outside perspective is invaluable.
---
IWG Corporate Services can provide a multitude of professional services and solutions for businesses needing assistance in all departments. We are here to simplify your life.
Finding solutions to your business challenges is our specialty.
Let us assist you with whatever is blocking your business success, and get a sound night of sleep!
---
"Executive Solutions to Corporate Challenges"
What is a Multi-Family Office?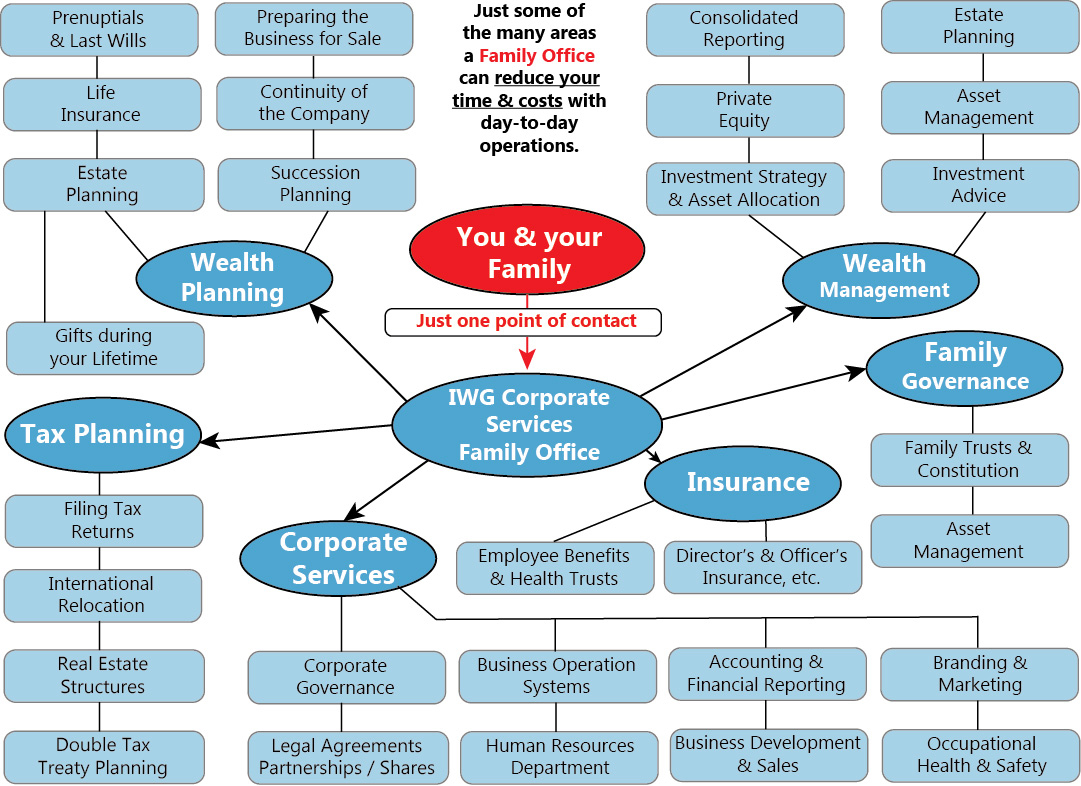 I save so much time dealing with one office for all my financial, insurance and corporate needs. I don't have to re-tell my personal story over and over again. They know me and my family well and operate efficiently.
Click Here to see our list of
departmental corporate services
Subscription for Family Office Services
Typical full-time departmental positions we can cover

Savings are realized by eliminating payroll deductions, holidays, workstations, etc.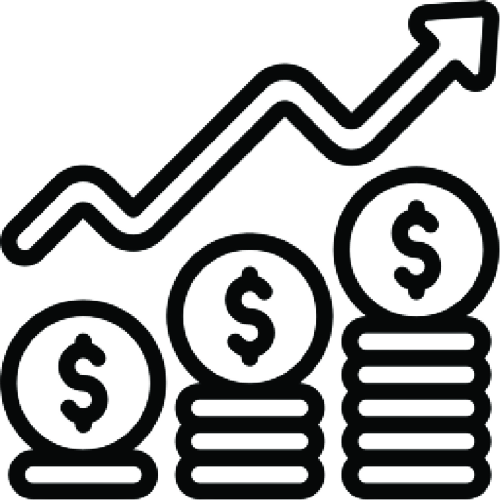 | Departments | *Average Salary Fulltime Employee | Average Cost IWG Family Office | Savings |
| --- | --- | --- | --- |
| Bookkeeper/Payroll | $54,000 | $38,000 | 29% |
| Controller | $65,000 | $48,000 | 26% |
| Marketing/Social Media | $64,000 | $32,000 | 50% |
| HR Consultant | $75,000 | $58,000 | 22% |
| Chief Executive Officer | $225,000 | $92,500 | 58% |
| Operations Manager | $125,000 | $61,875 | 50% |
| Accountant | $85,000 | $53,431 | 37% |
| Business Development Officer | $150,000 | $83,150 | 44% |
| Total | $843,000 | $466,956 | 47% |
*Additional costs incurred with each full-time employee:
| | |
| --- | --- |
| • CPP, EI, Group Benefits, Vacation, EHT & WCB: | $8,000 - $9,500 / year |
| • Office Space & Supplies, Computer & IT, Software Subscriptions, Uniforms, etc. | $5,400 - $10,800 / year |
| Total Costs / Employee | $13,400 - $20,300 / year |
Pay only for the services you need.
Use your IWG Services subscription credit towards the time
you use in each department.
Click Here to see our list of
departmental corporate services
"Executive Solutions to Corporate Challenges"
Organizational
Assessment
---
Helps to align your internal structures, processes and systems to uncover your weaknesses and strengthen your operations.
Strategic
Planning
---
An in-depth Strategic plan defines your strategy and helps you make decisions on how to allocate your resources to achieve your business goals.

Professionalize
your Business
---
Implement repeatable processes and systems allowing you to measure performance and create a culture of continuous growth.

This assessment is a comprehensive set of questions we work through with you, resulting in an in-depth analysis of your company, its goals, departments and systems. Our team goes through your answers and evaluates each area thoroughly.
After reviewing your OHA, our team summarizes the results and gives you a report with our recommendations for improvement. Together we review & discuss these to get a clear understanding of your strengths and weaknesses and where to focus future efforts.
After the Organizational Health Assessment, you will know what areas of your business you need to professionalize, with our assistance. For help developing specific, prioritized recommendations, you will want a Strategic Flightplan© that dives deeper into your operations.
With a completed Flightplan©, you and your team can make the necessary adjustments to improve your business.
Our monthly subscription service helps you make the changes a reality & take your business to the next level.
"Executive Solutions to Corporate Challenges"
Organizational Health Assessment©

(OHA)

IWG Strategic Flightplan©
These two signature products assist business owners to focus on the important operational priorities.
Organizational Health Assesment© (OHA)
Organizational Health Assessment (OHA):
Is an indispensable investment into your business.
Is a valuable tool for identifying issues to focus on in order to professionalize your operations.
Identifies many common governance issues overlooked by organizations.
Ensure policies in Human Resources or Occupational Health are in place to protect a business from potentially expensive problems or risks.
Increase efficiency, sales & shareholder or owner equity.
Determines if you have proper marketing initiatives in place.
---
We offer this assessment at a preferred rate, since it is critical for every business to undergo an independent, outside third-party evaluation without inside prejudices and beliefs.
The OHA covers 90+ questions about your business operations.
Our in-house team evaluates your answers to discover the strengths and weaknesses of your business.
You receive a report summarizing the top priorities in each department to ensure you are operating as efficiently and profitably as possible.
IWG Strategic Flightplan©
Our strategic Flightplan© is a "deep-dive" evaluation of all your policies, procedures and operations.
This option is available after an OHA has been conducted on your business.
You receive a multi-phase, prioritized action list for each department to take your business to the next level.
A monthly subscription to our corporate services is available to help if you lack the team resources internally.
Click Here to see our list of
departmental corporate services
"Executive Solutions to Corporate Challenges"