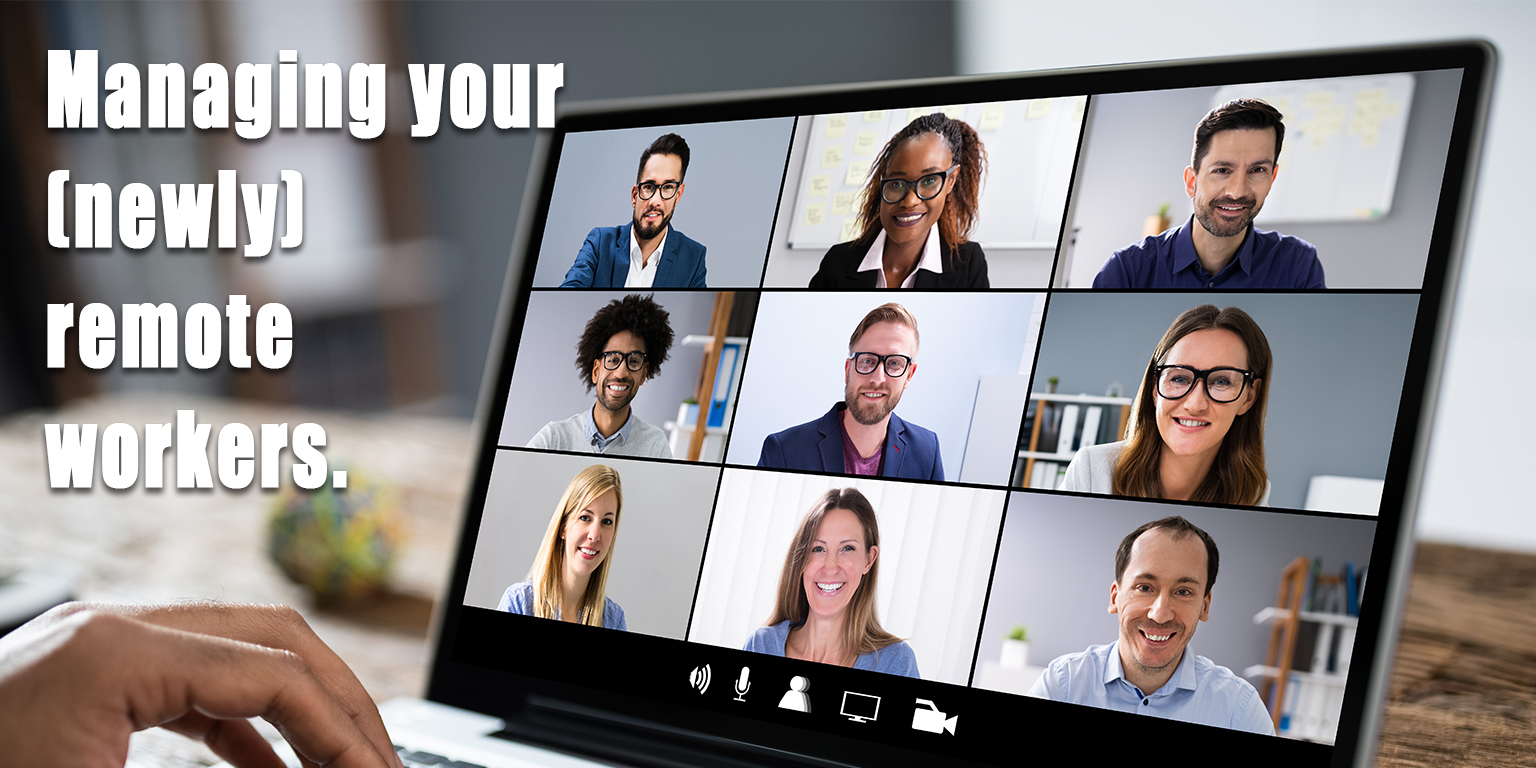 How to manage your (newly) remote workers.
April 23, 2020
If you're like most people, working from home can be a daunting proposition. With so many distractions, it's tempting to keep your pajamas on, turn on the TV and snuggle in with a cup of coffee. After all, who is ever going to know?
In your home office, it's easy for YOU to become your worst enemy. When you aren't surrounded by coworkers, you're free to drop those pesky inhibitions. At home, no one is watching. You don't necessarily feel the same pressure or obligation to get things done.
In the midst of this unprecedented pandemic, it's becoming more and more common for employees to work from home in order to maintain Social Distancing and help to flatten the curve.
Prime Minister Justin Trudeau just put out a plea for Canadians to stay home… so how can you maintain a sense of normalcy and productivity while practicing social distancing?
Maintain your routine and act like you ARE going into the office
Set your alarm for your regular wake up time, make coffee, have a shower and put on your work clothes. The mental association that you make between getting ready for work will help you shift from "home" mode to "work" mode and make you more productive. Get ready for the day like you ARE going to work. Otherwise you might just find yourself back in bed.
Structure your day like you would at the office
When you are telecommuting, you are your own personal manager, with no one to tell you what to do or to look over your shoulder. Without things like in-person meetings, coffee breaks or lunch breaks to break up your day, you can quickly lose focus, become distracted or burn out. To stay on a consistent schedule, plan out your day. What does your morning usually look like in the office? You should be focusing on those same tasks at home. Make sure you segment what you'll do and when over the course of the day.
Find a dedicated work space
Just because you're not working in an office, doesn't mean you can't make your own. Rather than trying to be productive in bed, or on the couch with your laptop, find yourself a workspace or a specific room in your home that you can associate with work. It can be as simple as using a certain chair or table. Some place that is consistently used as your "workspace" can help get you into the right frame of mind.
Make it more difficult to get lost in social media
Social Media networks are designed to make it easy for you to open and browse quickly. At "work" this convenience can be a detriment to your productivity (and just how many people are able to "quickly" browse social media?).
To make social media less tempting during the course of your "work day", log out of every account. Having to enter your username and password may just be enough of a hassle to keep you from logging in.
You may even consider working in a private or incognito window in your web browser – this will ensure you stay logged out of your accounts and every web search you perform won't pull up past websites or autocomplete the words you are trying to type.
Commit to doing more than you would at the office
At home, you will likely find yourself blowing through tasks that would usually take longer to perform in an office environment. Just as we tend to overestimate how long a project will take us, when you are working at home, you should also try to overestimate how many things you will get done during the day.
Not only will this help to keep you honest, so that you don't get the urge to go do something else, but it will make you more accountable to your team. Even if you come up short, you will still come out of the day with a solid list of tasks checked off your to-do list.
Use technology to stay connected!
Social distancing is an easier concept for our younger generation who are used to Facetime, Social Media and Texting. Most of us are used to a certain level of interaction during our days and working out of the office can make you feel cut off from the larger picture of the business or corporation. Using tools like instant messaging or video conferencing make it easy to check in with co-workers or hold virtual meetings. These check-ins will help to keep you connected while reminding you how your work is contributing to the bigger picture.
Communicate expectations to anyone who will be at home with you
Given the current state of schools, daycares and businesses in Canada during this pandemic, the likelihood is that, while you are working at home, you will still have "company". If anyone else is going to be home while you are working, they need to be clear that when you are in your "office" (or at your workspace), you are not actually there. Make sure spouses, children, roommates or dogs (ok, maybe not the dogs) respect your space during work hours.
If both you and your spouse are working from home but have children to take care of, try working out a daily schedule to ensure that the children are taken care of, but you are both able to "work" during certain hours.
Take clear breaks!
It can be so easy to get distracted when you are working from home that you tend to avoid breaks altogether. This can lead to a lack of productivity, lack of focus and burn out. Take your usual breaks, but rather than checking in with social media or hanging out on YouTube, get away from your "desk". Take the dog for a walk, have a bite to eat and hug your kids. Don't fall into the trap that you need to be working 100% of the time while you're home to be more productive. Small breaks, like making and eating lunch can actually recharge you.
Interact with others
After a few days practicing social distancing, you may begin to feel isolated and cut off. Interacting with other humans is allowed – even encouraged – when it's done safely. Pick up the phone and call a friend. Try a video chat with family members or coworkers. Schedule a Facebook watch party. Check in with co-workers, neighbors and elderly in your community to ensure that they have the things they need. It will keep you sane.
10. Set a CLEAR end time for your work day
Many people are under the impression that working from home creates a wonderful work-life balance… but be careful with that assumption. It's easy to get caught up in your work and lose complete track of time.
Instead of relying on an office environment where the act of seeing coworkers packing up and heading home can remind you to do the same, set an alarm to remind you to save your work and begin your regular process of packing up for the day.
Another note of caution – avoid the temptation to respond to work related emails after your work day has ended, or to "just quickly finish up a task you forgot". When you are telecommuting, and working in your home environment, mentally stepping away from work can be especially challenging.
Social distancing during this pandemic is one of the single most important things that we, as a nation, can do to flatten the curve. Not only does this help to limit the immediate load on hospitals and healthcare workers, it can limit transmission to the elderly and those who are at high-risk for more severe infections.
A note from our founder:
I want to emphasize that we are open for business and will remain fully operational for our clients, whether in-office or if it becomes necessary to work remotely in the coming days, weeks or months.

Over the course of the last few weeks, I have spoken with many of our clients. Like you, they have questions about COVID-19 and how this will impact them, their business and their families. So, I am taking the time to outline my thoughts and to share the actions that we are taking at Insure Wealth Group Inc. to keep our clients and our valued employees as safe as possible while continuing to meet and exceed your needs, both personally and professionally.
We have a contingency plan in place that will allow us to continue our operations remotely should the need arise. This includes implementing an IT team who have been working around the clock to ensure we all have outside access to a secure server, and that our clients are able to securely upload documents remotely.
Our team is always available to hold meetings via telephone, videoconference or in-person, as you are able.
We are taking every sensible step to help protect our team and our clients, including limiting travel and making it easier for our people to take the time to care for themselves or their families in the event that they are directly affected by COVID-19.
We are committed to being proactive while we navigate the evolution of COVID-19 and our team is monitoring all new developments so that we can quickly adapt and continue to provide you with the best possible service and expert advice.
If you have any questions, please feel free to talk to one of our advisors.
Call 250-869-8158 or email us directly: admin@insurewealth.ca.
Stay Safe. And wash your hands.
Jason Netherton